Thinking of creating a YouTube channel is great. After all, YouTube is an influential platform for inspiring content creators. Underestimating the time, effort, and commitment necessary as a YouTube content creator, however, is not. Creating and maintaining a YouTube channel takes a lot of grit, inspiration, and hard work. And if you create a channel without preparing properly, you might be in trouble. Here are 7 things you should do before creating your own YouTube channel: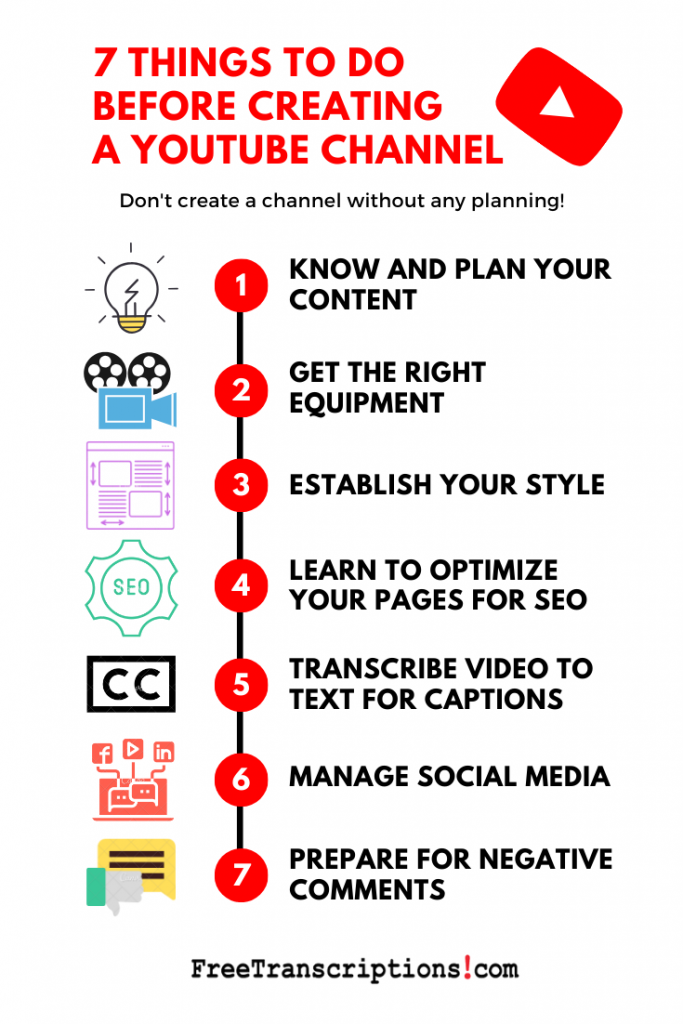 Know and plan your content 
You need to figure out what kind of content you will be publishing. Are you a gamer who wants to stream his gameplays?  Perhaps you're planning to push out makeup tutorials or hacks? Or maybe you'll be more of a media and entertainment channel that publishes movie and series reviews or recommendations?
Once you figure out what kind of YouTube content you will do, plan ahead. When will you post the videos? Are there any specific themes or categories you want to do in some videos? What's the format? Take the time to plan these things out so you have a steady stream of content on your channel to keep your potential audience engaged.
It also helps to decide if you're going to be monetizing your channel like most YouTube content creators nowadays. If so, you need to make sure you put out high-quality videos and engaging content that will help you gain traction right away. 
Get the right equipment
Now that you have your content all figured out, it's time to look into getting the right equipment. Invest in something practical and suitable for your purpose. For on-the-go or daily vlogs, a smartphone that can film in at least 720p and a good gimbal stabilizer would suffice. When you've earned enough or you're trying a different kind of video, you can move on to other video equipment and accessories such as DSLRs, tripods, microphones, studio lighting, and even a proper editing software. The bottom line is, people expect quality resolution in every video content they consume. It's crucial that you give them that. 
Establish your style
Apart from the content, style is also important as a YouTube content creator. It helps set you apart from others and helps you build your brand. Style involves your video format, lighting, thumbnails, fonts, titles and more. Make sure to establish these in your first ever video and be consistent with future content. 
Learn to optimize your pages for SEO
To make sure you show up in search results and that everyone has the chance to see your channel and content, you need to know how to optimize your SEO. SEO refers to search engine optimization and concerns the quality of a website to improve visibility and drive traffic. Give proper and descriptive titles to your videos, use relevant tags and categories, and learn to write a good description. 
When setting up your YouTube channel, you also have to make sure everything is filled out and looks great. From the profile picture to the cover photo, to the channel description and the important links. All of these things will help you rank higher and better on YouTube. 
Transcribe YouTube video to text for captions
If you haven't realized it yet, captions are an important element of video content, even on YouTube. There are numerous reasons why you need closed captions for your YouTube videos. Not only do they boost SEO and view times, they also make your content accessible by anyone and anywhere. 
YouTube has its own generated captions, but as they might not be perfectly accurate, it's best if you edit or create your own. You can easily transcribe YouTube video to text by using a free transcription service. This way, you won't be spending too much money or effort to put captions on your videos.
Manage social media
You also need to be active on social media so you can promote your content and connect with people. Utilize social media networks such as Facebook, Twitter, and Instagram to share your YouTube videos, interact with potential viewers, and even discover other YouTube content creators. With a powerful tool such as social media, you'll be able to do a lot more for sure. 
Prepare for negative comments
You won't be able to please everybody, especially on a platform like YouTube. Sooner or later, you'll encounter negative comments on your videos. You need to be prepared for these and not let them get through you. If it's constructive criticism, you can use it to improve your work. However, if it's a personal attack or just pure trolling, it's better to look for ways you can moderate comments and remove offensive content that can affect you and your other audience as well.