Videos, without a doubt, are a great way to boost engagement, spread information, and encourage your audience to buy from you or patronize your services. With 228 million digital video viewers in the United States and projections at 236 million by 2020, you can never go wrong by utilizing videos on your website. However, you need to make sure that all people will be able to access your content and that your video accessibility is precise. 
Why check video accessibility?
To comply with Section 508 in the of the Rehabilitation Act of 1973, in which federal agencies must give disabled employees and public audience access to information comparable to the access available to others

To cater to persons with disabilities in your audience 

To widen reach and engagement

To improve overall website accessibility
In short, the more accessible your videos are, the better. Here are a few items that need to be in your video accessibility checklist: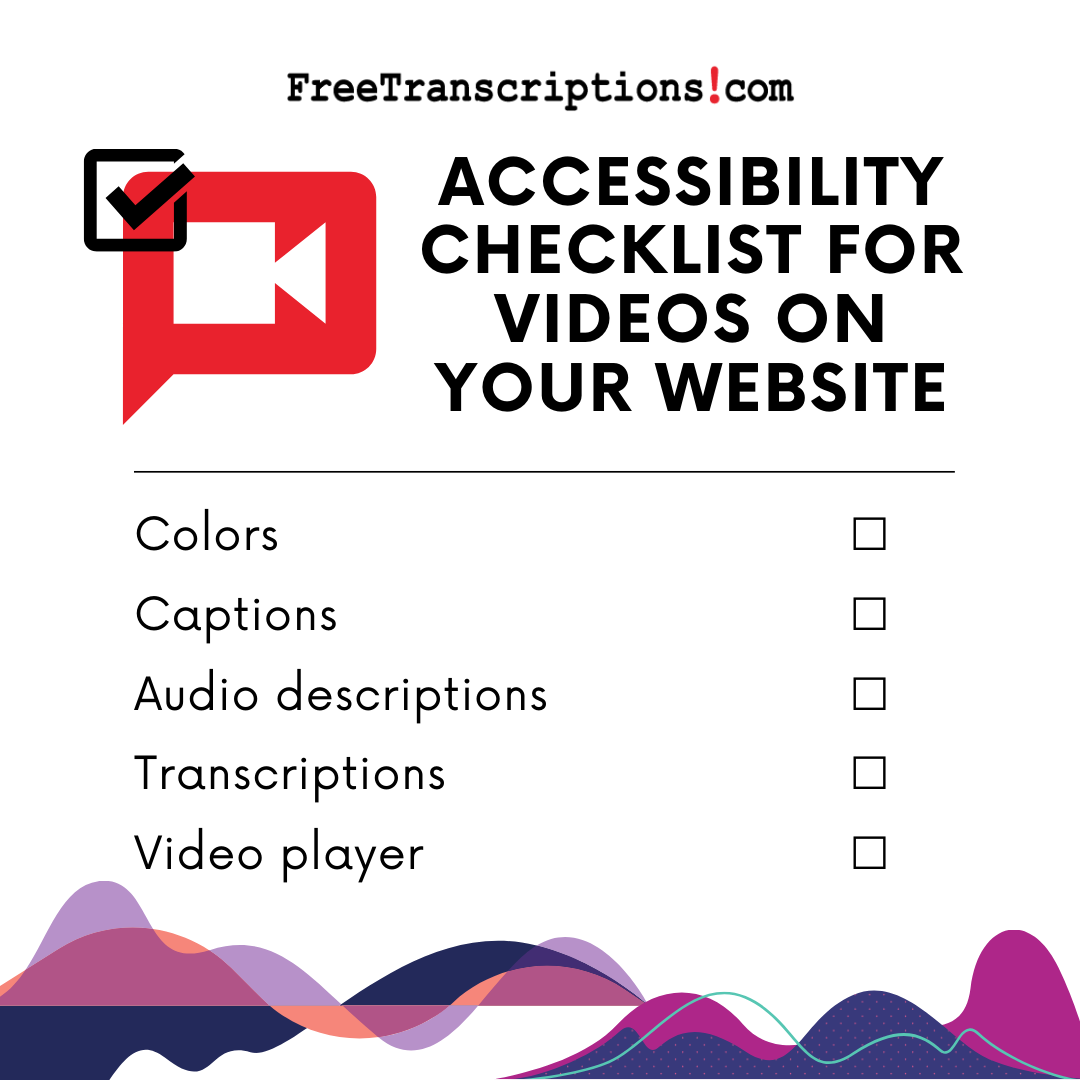 Colors
If your video is mostly animated or a slideshow-like presentation where you show graphs or statistics, make sure that pieces of information are not solely represented by colors. This is for people who have color blindness. You can also use a website accessibility tool, like the NoCoffee plugin, to see if your video is not harmful or disruptive to those who have other visual impairments. Making sure your video has good color contrast is also favorable for many.
Captions
Captions are definitely a must when it comes to videos. It's even better if you make sure to include closed captions. Closed captions cater to deaf and hard of hearing individuals and will provide them full context since captions can help them identify speakers, recognize background music, special sound effects, and more. 
Your captions need to accurately reflect the speech and non-speech elements on the screen, and they also have to be synchronized properly with the audio. 
Audio descriptions
Audio descriptions are entirely different from captions, but also a very critical element if you want the videos on your website to be accessible. An audio description is a separate audio track in which images and actions on the screen are narrated. This is used to provide additional information regarding the visual elements in a video or film for the benefit of visually impaired audiences.
To include an audio description to your video,  you can embed it onto the video itself, publish it through a separate audio track, or utilize an audio description plugin. 
Transcriptions
Along with captions and audio descriptions, a full transcript is also a great addition to your videos. Transcriptions convert your video to complete text versions which will help people understand the video more. Speakers and little details and information will be written in these transcriptions. This way, consumers with hearing problems and/or learning disabilities will have options to view and understand your video content at their own pace.
You can have your team transcribe your videos or utilize a free transcription service to save time and money. You can then easily post a transcript alongside the videos on your website. 
Video player
It's important to check your video player as well. You need an accessible video player that can support all captions, transcripts, and audio descriptions. Full controls should also be available such as pause, stop, and volume up and down. Other accessible video players even allow customizations of captions and voice-activated capability to those who need it. You can find Section 508 compliant video players here. 
Take the time to make sure you're adhering to video accessibility guidelines every time you create and publish videos. Use this simple accessibility checklist to go over your video content and make sure it's accessible by others.