How do you caption IGTV videos?
Instagram has enabled Auto-Generated Captioning in September 2020 for IGTV videos. Whether you are a rookie or an experienced influencer, it is recommended that you create videos with captions to increase your audience. 
One reason is that captioned IGTV videos are more accessible to people with reduced hearing. This makes Instagram a more inclusive community. 
Another reason is that more people are watching videos on mute. According to a survey done by Verizon media, 92% of viewers turn the sounds off while on their smartphones. These people might be in a place or environment where noise is prohibited. IGTV Captions enable them to understand the video.
More importantly, more viewers are likely to finish the video because they are hooked with closed captions. This boosts video traffic and overall engagement for your profile.  So, going back to the question:
How do you add captions or subtitles to your IGTV videos?
Here are the steps to turn on auto-generated captions from your Instagram mobile app:
Go to the Settings of your Instagram account. Click "Account".

Choose "Captions" and turn on the "Auto-Generated Captions".

Upload your IGTV video as you normally would. Make sure to share it as Long Video.

Set a cover/thumbnail for your video. You can either choose a shot from the video itself or choose another photo from your camera roll. Click "Next".

Add a Title and a short description of the video to engage your audience. You can also opt to post a preview or share it on Facebook.

Go to "Advanced Settings" on the bottom of your screen before publishing. Turn on "Auto-Generated Captions".

Click "Done" on the top right corner of your screen, and you're good to go!
While enabling the Auto-Generated captions from your mobile app saves you time and gives you a lot of benefits, there is still a downside to this.
Accuracy is the biggest drawback of auto-generated captions. Since IGTV uses automatic speech recognition (ASR), it will not be 100% accurate. Factors such as background noise or accent greatly affect the quality of your captions. If you rely on auto-captions alone, it might affect the meaning of your sentences. People might misunderstand you because some words are misspelled.
But do not fret. There are several ways on how to caption IGTV videos more precisely. Here they are: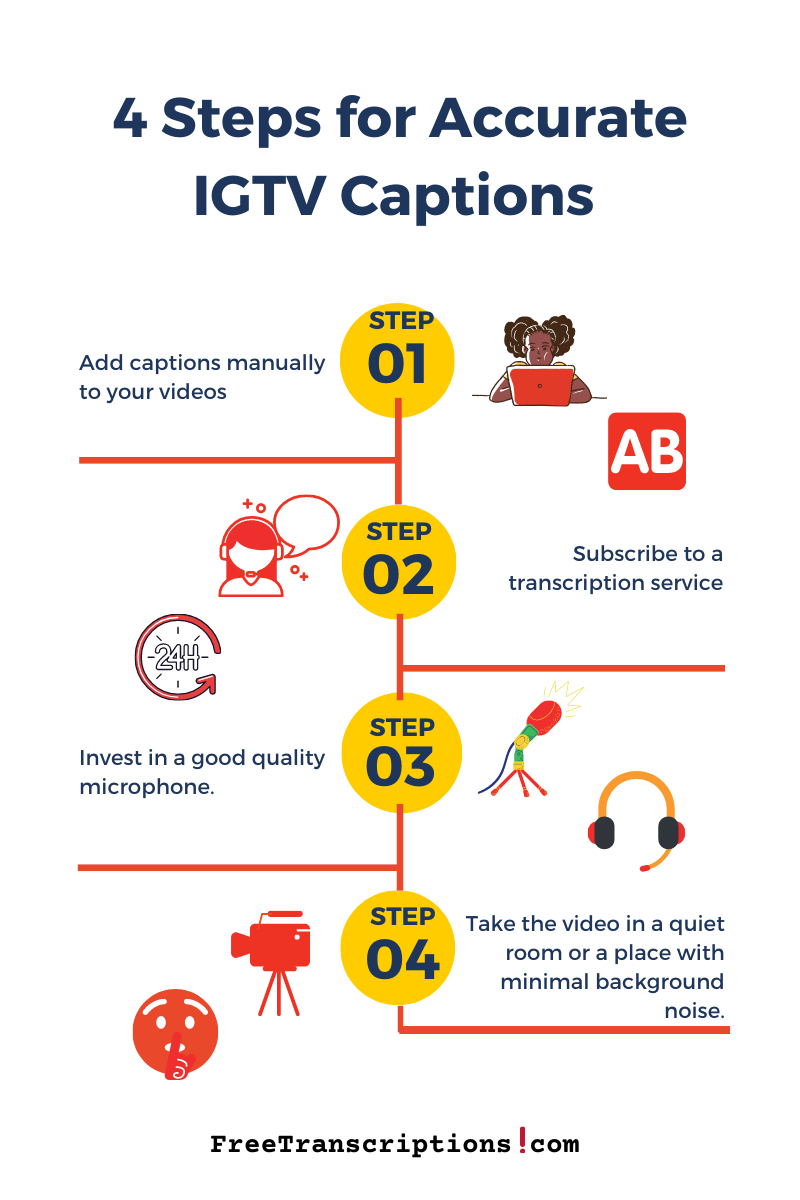 1. Add captions manually to your videos.
Incorporating captions by yourself gives you the most accurate subtitles. Use third-party apps or software to burn the captions into your IGTV videos before uploading them. However, it can be a daunting and time-consuming task.
2. Subscribe to a transcription service. 
There are several transcription sites that offer free services. For instance, Free Transcriptions offer 300 minutes of service for free every month. It provides high-quality captions and subtitles with a fast turn around time. Plus, it saves you more time for other activities. That is a good deal!
3. Invest in a good quality microphone.
You don't have to break the bank for this. Some products offer automatic noise reduction at a low price. A quality microphone will enable you to produce better quality audio as well, which can be easily transcribed automatically or manually.
4. Take the video in a quiet room or a place with minimal background noise.
Make sure that you speak audibly and loudly when you record. This way, the microphone will clearly pick up your voice.
Adding captions to your IGTV videos is now a piece of cake. Just take a look at these steps next time you upload your video. After that, you can sit back and wait for your followers to grow.