When all other options are unavailable, Google Voice can be a simple but effective tool to create automated transcriptions. However, using it properly requires the right preparation and process.
Nevertheless, Google Voice transcription is easy to learn and use – all it takes is five steps.
1. Set up your recording environment
As advanced as Google Voice is, it struggles when there's a lot of noise or people talking in the background. It either misses a lot of details or picks up other utterances outside of the actual input.
One solution is to wear a noise-canceling headset or use a cardioid microphone. This will block out a lot of background noise and allow Google Voice to focus only on the voice of the speakers. However, if the noise is too much, you need to move to a quiet environment.
2. Create a new document or open an existing one
You can use Google Voice in Google Docs via "Voice Typing" and in Google Slides via "Voice typer speaker notes." For transcription, it's best to use Docs, as the latter only transcribes your speech into speaker notes rather than the actual content.
When you open Google Docs, you can either open a new document or an existing one. Opening a new document is best, as you can adjust the formatting without worrying about other content in the document. However, using an existing document also works, as long as you make room for the upcoming transcription.
3. Enable Voice Typing
To use Google Voice in Docs, find and click "Tools" on the top bar, then click "Voice typing" on the context menu that appears. A small window will appear with a black microphone logo and a dropdown button for choosing the language.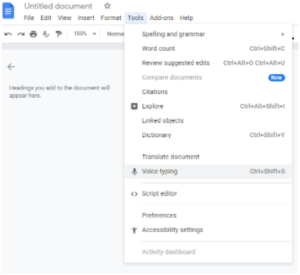 Click the dropdown button and select the language that you will talk in. This is important for indicating which language Google Voice will be picking the words from while transcribing.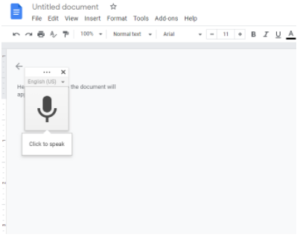 Alternatively, you can press Control, Shift, and S at the same time (or Command+Shift+S for macOS devices) to instantly enable and start the voice typing feature.
4. Start speaking
When you're ready, click the microphone button to start your automated transcription. The icon will turn into a red microphone inside a circle.
Here are some things that you need to remember during transcription:
Before starting, click on the area of the document where you want the transcription to be. Ideally, it should be a blank area for easier editing.

The voice typing feature will transcribe

all

the words your device picks up without distinguishing who said which lines.

Make sure that your microphone is working properly. The voice typing feature automatically stops if it picks up no speech, which can be inconvenient if left unnoticed.

Remind all the speakers to talk at a clear, moderate pace. Google Voice is still far from perfect and may interpret some words differently.
To finish transcribing, click the microphone button again or press Control+Shift+S (or Command+Shift+S for macOS).
5. Edit the transcription
Generally, your transcription will look like a huge block of text that is difficult to read. To make sure that the transcription is readable and valuable, you have to proofread it and make necessary edits such as:
Speaker identification

– Identify and isolate the lines spoken by each speaker.
Formatting

– Ensure proper punctuation and capitalization. Google Voice merely transcribes words; it doesn't recognize sentences or place periods or commas.
Transcription errors

– Always expect errors in how Google Voice interprets the words it picks up.
FreeTranscriptions! can give you quick, accurate machine transcripts
Google audio transcription can be a good option for free and quick automated transcriptions if you're left with no other option. However, it's highly ineffective if you need a serious transcription tool to transcribe multiple speakers at once. 
If free, fast, and accurate machine transcripts are what you need, consider using FreeTranscriptions! Simply submit your audio recording to quickly receive a high-quality machine transcript that you can send back for revisions by our expert editors should you feel unsatisfied with the quality.