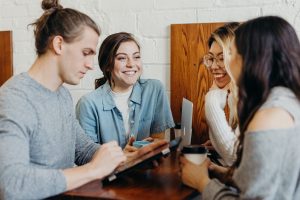 Whether you're a student, researcher, or a corporate employee, you will most likely find yourself in need of transcribing your meetings, lectures, interviews, or any other type of audio files to text. However, the process is often time-consuming and a pain to deal with especially when you have to transcribe hours and hours of audio or video recordings. Thankfully, transcription tools have come a long way and you can now get automated transcriptions done at very little to no cost. 
In the same vein, we launched FreeTranscriptions as a free alternative for individuals who have transcription needs. With FreeTranscriptions, you can easily convert your audio recordings into text using the best audio-to-text conversion software available in the market and produce 300 minutes worth of free automated transcriptions with very minimal effort almost instantaneously.
Just recently, we launched the FreeTranscriptions online portal which allows the user to upload their audio recordings and quickly convert it into text. We wanted every user to have a more seamless experience when producing transcriptions using our automated transcription tool. The portal lets you view all of your files and access your transcriptions. These transcriptions can be downloaded in a document file format (.doc). In addition, the online portal lets you track the minutes remaining in your account by selecting your profile name through the icon located at the top-right of your screen. 
To get started, all you have to do is sign up on the online portal and provide the following information: email address, name, preferred password, name of organization or company, and the country you reside in. 
Once you've created your account, here are the steps you should follow to officially get started:
1. Log in to your account.
Simply input your email address and password to login to your account. Your FreeTranscriptions portal lets you view your list of recordings as well as track the number of minutes you have used in your account. To view your remaining minutes, simply click the icon located at the top-right of your screen and click your profile name. 
2. Upload the files you want to transcribe.
The portal accepts these audio file types: .mp3, .wav, .aac,.m4a, and .wma. The upload speed will depend on your internet connection and file size. 
3. Click "Transcribe" once the files are uploaded.
Your files should appear on your dashboard with its status changed to "Transcribed" once they have been processed. 
4. View or download your online transcript.
Click on the recording to view your online transcript. This will take you to a new window where you have the option to download a copy of your transcript or choose from one of FreeTranscriptions' Proofing Services.
5. Maximize your transcript's quality by choosing from these proofing services. (OPTIONAL)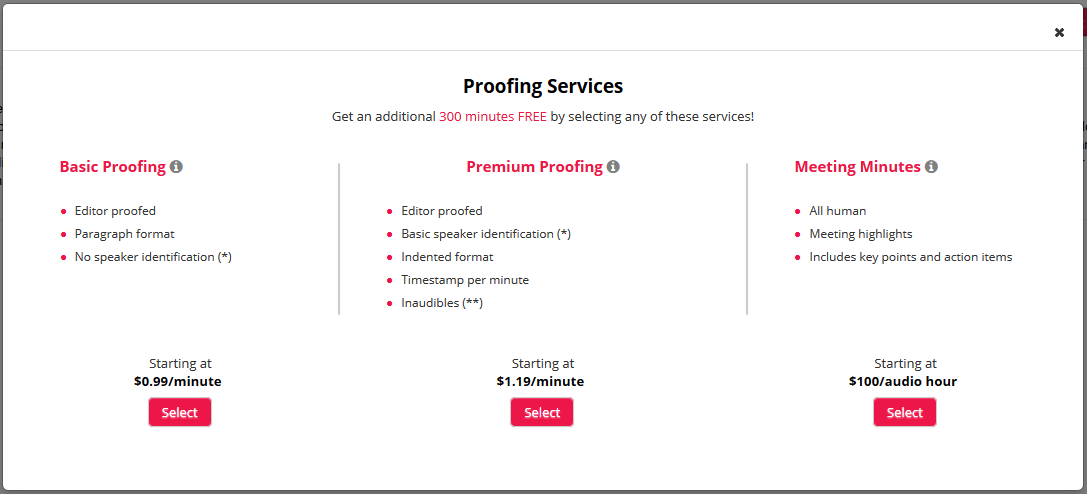 These proofing services include basic transcript proofing, premium transcript proofing, and meeting minutes. 
Proofing services are done by real humans. You can choose your delivery preference – 1 business day, 2 business days, or 4 hours, and add additional instructions if you have any.
By using one of the paid services, you can get an additional 300 minutes worth of automated transcriptions. Just make sure to request at least an hour's worth of audio recording. Furthermore, the number of additional minutes earned corresponds to the length of the requested recordings. So if you request two hours worth of audio for proofing, you can get up to 600 free minutes, and so on. 
To further enhance your experience, we are working on adding more enhancements to the portal such as an automatic payment system, more export options aside from .doc, more upload file type options, email integrations, a notification system, and an option to share your transcriptions to other people such as colleagues and co-workers. We are also working on more interactive automated transcriptions which lets you edit your transcripts making it more accurate. 
FreeTranscriptions' portal works on all devices and platforms. If you encounter any issues, our live customer support is available during regular business hours for real-time assistance.